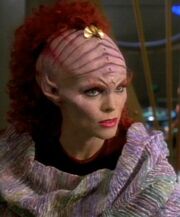 Sarda was an exotic female who resided on Starbase Deep Space 9 in the year 2369.
Biography
Edit
In 2369, Sarda worked as a dabo girl at Quark's, but became concerned upon reading her contract of employment that she was to grant sexual favors to Quark, her employer. After taking the matter to Commander Benjamin Sisko, the contract was invalidated. (DS9 episode: "Captive Pursuit")
Appendices
Edit
Connections
Edit
External link
Edit
Ad blocker interference detected!
Wikia is a free-to-use site that makes money from advertising. We have a modified experience for viewers using ad blockers

Wikia is not accessible if you've made further modifications. Remove the custom ad blocker rule(s) and the page will load as expected.