Ad blocker interference detected!
Wikia is a free-to-use site that makes money from advertising. We have a modified experience for viewers using ad blockers

Wikia is not accessible if you've made further modifications. Remove the custom ad blocker rule(s) and the page will load as expected.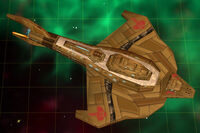 The Sartan-class destroyers were fast attack warships that were deployed by the Cardassian Union in the 24th century.
These ships were designed for speed and offensive fire power which could not take heavy punishment in battle due to their light shielding. (TNG video game: Armada II)
Known ships
Edit
Agrorn • Beddawg • Biraldrane • Birmuk • Bryfed • Canil • Carerak • Calingrorn • Cathonorn • Cladd • Cudydd • Dynwlig • Enwlar • Fanwel • Ferograne • Gethfan • Glogrand • Goryd • Gwafaden • Gwant • Gwysso • Gwefedrawn • Igrangren • Ilfari • Imgard • Itheon • Kadrorn • Kagrand • Kermar • Llarnyr • Llerfach • Manil • Megyr • Mogrun • Oraragh • Rorthun • Sograrg • Tak • Taldresh • Tarongrim • Thagrarg • Twrafei • Ularthor • Uronarg