The Scorpio-class was an Andorian-designed class of corvette used by Starfleet in the late 23rd century.[1]
The Scorpio class was comissioned in 2285[2] to improve and extend the defenses of Federation starbases and other bases or systems that required protection. They were usually deployed in pursuit groups of twelve ships, organized in three flights of four ships each. Despite the corvette designation, their actual usage would also qualify the Scorpio class as attack fighters.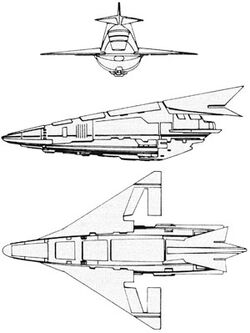 Appendices
Edit
Connections
Edit
References and Notes
Edit
↑ The Federation Ship Recognition Manual gives its date entering service as reference stardate 2/2206, which is also the timeframe in which Star Trek II: The Wrath of Khan and Star Trek III: The Search for Spock take place, which is in 2285 in the standard timeline.
Ad blocker interference detected!
Wikia is a free-to-use site that makes money from advertising. We have a modified experience for viewers using ad blockers

Wikia is not accessible if you've made further modifications. Remove the custom ad blocker rule(s) and the page will load as expected.