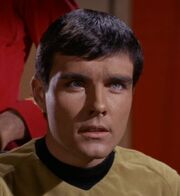 Sean DePaul (or De Paul) was a male Human Starfleet lieutenant who served as a relief helmsman aboard the USS Enterprise in the 2260s.
In 2267, DePaul took the helm on at least two occasions. Once during the engagement with the Gorn near Cestus III, and the other during the Enterprise's mission to Eminiar VII. (TOS episodes: "Arena", "A Taste of Armageddon")
During his off [[hour]s, DePaul would often be found in the recreation rooms socializing with the crew. (TOS novel: Mission to Horatius)
External link
Edit
Ad blocker interference detected!
Wikia is a free-to-use site that makes money from advertising. We have a modified experience for viewers using ad blockers

Wikia is not accessible if you've made further modifications. Remove the custom ad blocker rule(s) and the page will load as expected.