Sean Tourangeau is a graphic artist/designer and was the winner of the Pocket Books 2005 contest to design the Luna-class USS Titan for the new Star Trek: Titan book series.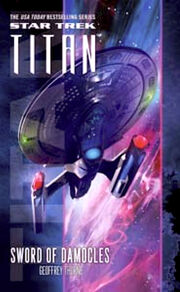 After winning the competition Tourangeau worked with his friend Ellery O'Connell to develop a 3D model of the Titan to be used on the cover of the forth Titan novel to show the new ship design in all its glory.
The two have also (so far unsuccessfully) been trying to get an image of the Titan into a future Ships of the Line calendar.
The character of Dr. Tourangeau was named for him.

External Links
Edit
Ad blocker interference detected!
Wikia is a free-to-use site that makes money from advertising. We have a modified experience for viewers using ad blockers

Wikia is not accessible if you've made further modifications. Remove the custom ad blocker rule(s) and the page will load as expected.