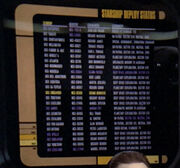 Sector 028 was a region of space located somewhere in the galaxy's Alpha or Beta Quadrants, near the Federation's outer reaches in the year 2365. In that year, this sector's planets were surveyed by the USS Lexington under command of Captain Wil Thoms. (TNG episode: "The Measure of a Man")
This sector was mentioned as part of mission information visible on a computer viewscreen at Data's JAG hearing.
Appendices
Edit
Connections
Edit
External link
Edit
Ad blocker interference detected!
Wikia is a free-to-use site that makes money from advertising. We have a modified experience for viewers using ad blockers

Wikia is not accessible if you've made further modifications. Remove the custom ad blocker rule(s) and the page will load as expected.