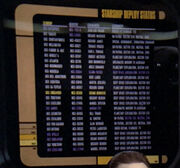 Sector 130 was a region of space, a sector located somewhere in the galaxy's Alpha or Beta Quadrants, in proximity to the Romulan Neutral Zone.
History and specifics
Edit
In the year 2365, around stardate 42523.7, the Federation starships USS Excalibur, USS Wellington and USS Farouk El-Baz patrolled sector 130. The USS Hokule'a explored planetary systems in sector 130 around the same time. (TNG episode: "The Measure of a Man")
Appendices
Edit
Connections
Edit
References
Edit
External link
Edit
Ad blocker interference detected!
Wikia is a free-to-use site that makes money from advertising. We have a modified experience for viewers using ad blockers

Wikia is not accessible if you've made further modifications. Remove the custom ad blocker rule(s) and the page will load as expected.