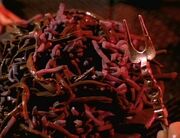 Serpent worms were an invertebrate animal lifeform native to the Klingon homeworld of Qo'noS.
History and specifics
Edit
Live serpent worms were the primary ingredient of the Klingon dish gagh. (TNG episode: "A Matter of Honor")
Appendices
Edit
Connections
Edit
References
Edit
Ad blocker interference detected!
Wikia is a free-to-use site that makes money from advertising. We have a modified experience for viewers using ad blockers

Wikia is not accessible if you've made further modifications. Remove the custom ad blocker rule(s) and the page will load as expected.