Shakedown (comic)
Talk

1
41,950pages on
this wiki
For other uses, see Shakedown.
From solicitations: Eight years before "The Cage," the young woman who would become the Starship Enterprise's "most experienced officer" was a lowly cadet assigned to the shakedown cruise of an uncommissioned starship. But that supposedly pedestrian mission may prove the most dangerous of her life. John Byrne begins an all-new, six-part miniseries torn from the Federation's beginnings!
This article or section is incomplete
This article is marked as lacking essential detail, and needs attention. Information regarding expansion requirements may be found on the article's talk page. Feel free to edit this page to assist with this expansion.
References
Edit
Characters
Edit
Number One (unnamed) • Phillip Boyce • Michael Brenner • Cho • Colin • Craddock • Griggs • Kar • Monroe (groundskeeper) • H. Osterman • McCormick (2245) • Murphy • J. Ramirez • Charles Rasmussen • Willis • William Jefferies (unnamed)
Starships and vehicles
Edit
Locations
Edit
Races and cultures
Edit
States and organizations
Edit
Appendices
Edit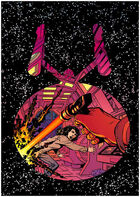 This issue was available in two covers, both using the same art by John Byrne. The primary cover was a colored version, with colors by Leonard O'Grady. The second cover, a limited retail incentive was a sketch version of the artwork.
Related stories
Edit
The story takes place shortly before the commissioning of the USS Enterprise in 2245. Later issues of the series place this eight years prior to "The Ends of Eternity", when Captain April is in command the Enterprise, and thus can be no later than 2251, making this story set in 2243.
External link
Edit