"Anyone can get angry, but not everyone can use it their advantage."
—Shev Akria, 2261
Shev Akria was an Andorian and Starfleet Academy Cadet in the 2260s of the alternate reality.
Biography
Edit
Akria was born in Th'Rholt on Andoria in 2240. He was a son of a Andorian Ambassador. In 2261, he was cadet at Starfleet Academy studying to be security officer.(SA - Starfleet Academy comics: "Issue 1", "Issue 2", "Issue 3"; TOS - Boldly Go comic: "Issue 7")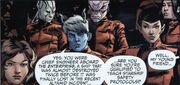 In
2263
, following the
incident
at
Altamid
, Akria attended a lecture by
Lieutenant commander
Montgomery Scott
. During the lecture, Akria questioned Scott's competence, much to his (
TOS
-
Boldly Go
comic
: "
Issue 1
")
Appendices
Edit
Appearances
Edit
Ad blocker interference detected!
Wikia is a free-to-use site that makes money from advertising. We have a modified experience for viewers using ad blockers

Wikia is not accessible if you've made further modifications. Remove the custom ad blocker rule(s) and the page will load as expected.