The Shi'Kahr-class (also spelled ShiKahr-class) was a type of frigate in service to the Federation Starfleet in the 24th century. (Last Unicorn RPG module: The Price of Freedom; ST video game: Star Trek Online)
The Shi'Kahr vessels were constructed as a modification of the design of the venerable Miranda-class. By the 25th century, Shi'Kahr-class vessels filled a role as a Starfleet light cruiser.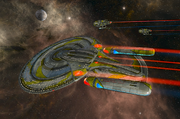 Shi'Kahr-class ships were also occasionally seen under the command of the Imperial Starfleet, who considered them frigates. (STO video game: Star Trek Online)
Known ships
Edit
Appendices
Edit
Background
Edit
The class was presumably named for the city of Shi'Kahr on Vulcan.
Connections
Edit
External links
Edit
Ad blocker interference detected!
Wikia is a free-to-use site that makes money from advertising. We have a modified experience for viewers using ad blockers

Wikia is not accessible if you've made further modifications. Remove the custom ad blocker rule(s) and the page will load as expected.