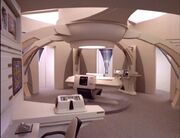 Sickbay is the name given to the medical area aboard starships and starbases. This nomenclature is common in use by the Federation and Starfleet. Sickbays are usually equipped with the latest medical technologies and are staffed with various doctors and nurses who work under a chief medical officer. On smaller spacecraft and starships the sickbay is called a medical bay. Starbases on planetary surfaces may have a hospital in lieu of a sickbay, while space station outposts have an infirmary.
Appendices
Edit
External link
Edit
Ad blocker interference detected!
Wikia is a free-to-use site that makes money from advertising. We have a modified experience for viewers using ad blockers

Wikia is not accessible if you've made further modifications. Remove the custom ad blocker rule(s) and the page will load as expected.