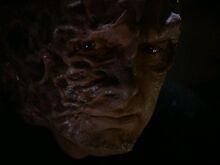 Silaran Prin was a male Cardassian who lived in the 24th century. In the 2350s, he worked as a servant for Gul Morad Pirak at the Gul's residence in Hathon on Bajor.
Prin was impressed with the holos of Iliana Ghemor's paintings that Ataan Rhukal displayed to his fellow Cardassians. Sometime between 2357 and 2359, Prin discovered the body of Oluvas Del, the Bajoran liaison to the Cardassian forces at Hathon, who had been murdered for being a collaborator. Prin was so distraught at what he saw, he had to be sedated. (DS9 novel: Fearful Symmetry)
In 2359, Prin was disfigured in an attack on Pirak's compound after a bomb was detonated by the Shakaar Resistance Cell. In 2373, he began his revenge against the resistance cell. Prin killed Latha Mabrin with a hunter probe, Trentin Fala with a remat detonator, Mobara with a micro-explosive and Furel and Lupaza by an explosive detonated by a hunter probe. Kira Nerys began a search for the culprit and identified Prin. Kira was incapacitated by Prin, who planned to remove the baby from her womb. Kira was able to attack Prin due to the merfadon sedative being counteracted by the makara herbs she had been taking. Kira was able to shoot and kill Prin with a phaser before he killed her. (DS9 episode: "The Darkness and the Light")
External link
Edit
Ad blocker interference detected!
Wikia is a free-to-use site that makes money from advertising. We have a modified experience for viewers using ad blockers

Wikia is not accessible if you've made further modifications. Remove the custom ad blocker rule(s) and the page will load as expected.