References
Edit
Characters
Edit
Jonathan Archer • Billy • Eddie • Alex Gaeta • Mark Latrelle • Travis Mayweather • Phlox • Porthos • Madeline Reed • Malcolm Reed • Mary Reed • Stuart Reed • Hoshi Sato • T'Pol • Charles Tucker III • Elachi
Starships
Edit
Referenced only 
Locations
Edit
Kota Bharu • Malaysia • Qo'noS • Vulcan
Races and cultures
Edit
States and Organizations
Edit
Appendices
Edit
Background
Edit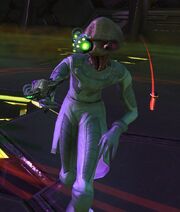 The mysterious ship from this episode was later reused as a Kovaalan vessel in a season three episode "E²".
In the Star Trek Online expansion Legacy of Romulus, these mysterious aliens are identified as the Elachi, a new enemy attacking Romulan colonies.
External link
Edit
Ad blocker interference detected!
Wikia is a free-to-use site that makes money from advertising. We have a modified experience for viewers using ad blockers

Wikia is not accessible if you've made further modifications. Remove the custom ad blocker rule(s) and the page will load as expected.