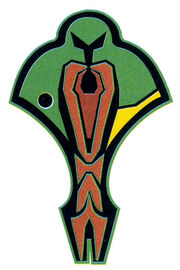 Simperia is a planet in Cardassian space.
The planet orbits a red giant star. (ST reference: Star Charts)
In 2375, Damar's Cardassian Liberation Front had a base on Simperia until it was attacked by the Dominion. (DS9 episode: "The Dogs of War")
Meneth, a member of the Aegis, took the form of a Simperian civet when working with the Cardassian Aegis agent Rodal Eight. (DTI novel: Watching the Clock)
Appendices
Edit
Connections
Edit
External link
Edit
Ad blocker interference detected!
Wikia is a free-to-use site that makes money from advertising. We have a modified experience for viewers using ad blockers

Wikia is not accessible if you've made further modifications. Remove the custom ad blocker rule(s) and the page will load as expected.