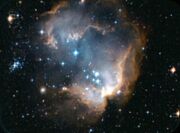 The Small Magellanic Cloud is a small satellite galaxy that orbited the Milky Way. The Romulans knew it as Enhaire.
The Neyel and the Neyel Hegemony were located within the galaxy. They knew their home as the Lesser M'jallan Cloud. (TTN novel: The Red King)
Connections
Edit
Ad blocker interference detected!
Wikia is a free-to-use site that makes money from advertising. We have a modified experience for viewers using ad blockers

Wikia is not accessible if you've made further modifications. Remove the custom ad blocker rule(s) and the page will load as expected.