Ad blocker interference detected!
Wikia is a free-to-use site that makes money from advertising. We have a modified experience for viewers using ad blockers

Wikia is not accessible if you've made further modifications. Remove the custom ad blocker rule(s) and the page will load as expected.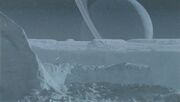 Snow is frozen water vapor that is formed within a planet's atmopshere. Snow is usually white in color and requires a temperature of below zero in order to remain solid.
Snow is common on many Class M worlds including Andor, Rigel X, and Earth. (ENT episodes: "The Aenar", "Broken Bow")
Connections
Edit