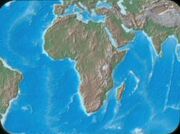 South Africa is a nation-state located on the planet Earth and was a member of the African Confederation by the 24th century.
In 2349, Sarita Carson was born in the South African city of Cape Town. (ST video game: Starship Creator)
Real World
Edit
South Africa's policy of apartheid during the 1960s was paralleled on the TOS episode "The Cloud Minders", set in the 2260s.
Connections
Edit
External links
Edit