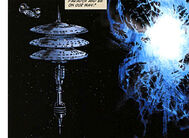 Space Station Bravo (or Bravo Station) was a Federation facility located on the edge of the New Thallonian Protectorate in the years following the war with the Selelvians and the Tholian Assembly. Space Station Bravo had a reputation as being one of the best repair facilities in the region.
Space Station Bravo's first commanding officer was Admiral Frank Kittinger, who came to see the station as his "baby".
In 2379, after Kittinger's retirement, command of Space Station Bravo was given to the newly-promoted Admiral Elizabeth Shelby. (NF novels: After the Fall, Missing in Action; NF - The Captain's Table short story: "Pain Management")
Ensign Galeckas was stationed on Bravo Station. (TNG novel: Q & A)
Ad blocker interference detected!
Wikia is a free-to-use site that makes money from advertising. We have a modified experience for viewers using ad blockers

Wikia is not accessible if you've made further modifications. Remove the custom ad blocker rule(s) and the page will load as expected.