Ad blocker interference detected!
Wikia is a free-to-use site that makes money from advertising. We have a modified experience for viewers using ad blockers

Wikia is not accessible if you've made further modifications. Remove the custom ad blocker rule(s) and the page will load as expected.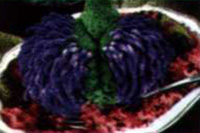 Spore pie was a popular Ferengi food dish, a type of pie made from spores. Plates of Ferengi spore pie were available at Quark's on Deep Space 9's Promenade. (ST reference: Star Trek Cookbook)
The dish was served in the Replimat on Deep Space 9. (ST reference: Star Trek Encyclopedia)
The picture of the spore pie was created by Doug Drexler.
Appendices
Edit
Connections
Edit