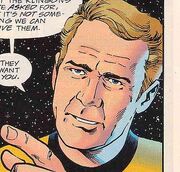 Admiral Springer was the commander of Starbase 7 in 2269.
In 2269, Springer redirected the USS Enterprise from Starbase 47 to Starbase 7, following the Tarnak II Incident. Springer believed that Captain Kirk would be a liability around the Klingons following the incident. Springer was about to order the Enterprise to investigate the destruction of the USS Aquila before the attack on Starbase 14 took precedence. (TOS comics: "The Hunted", "Blood Enemies")
Ad blocker interference detected!
Wikia is a free-to-use site that makes money from advertising. We have a modified experience for viewers using ad blockers

Wikia is not accessible if you've made further modifications. Remove the custom ad blocker rule(s) and the page will load as expected.