Description
Edit
"...all I ask is a tall ship, and a star to steer her by."—Poet John Masefield.
From the earliest days of explorations, there has always been one tried-and-true way to navigate through uncharted reaches and one to find the way home—the stars. Ancient mariners prized their star charts, knowing that they could guide them safely into a friendly port or lead them to the reaches of the mysterious East. Modes of transportation have changed, but the stars are still our constant guides. When man took his first step into space armed with the very latest in computers, he took with him the same tool for reading the stars that the men who sailed under canvas carried.
When humans launched the first ship designed for long-range missions into the deep waters of interstellar space, the Vulcan High Command provided their star charts to the Enterprise (NX-01). But Jonathan Archer was not content with relying on the known. Although he used the Vulcan charts, he also added to them, and greatly expanded Starfleet's knowledge of the galaxy. Every generation of starship captain that followed has built on Archer's first steps.
Table of Contents
Edit
References
Edit
Characters
Edit
Locations
Edit
Planetary settlements and landmarks
Edit
Stations and outposts
Edit
Alpha Quadrant planets and planetoids
Edit
Beta Quadrant planets and planetoids
Edit
Delta Quadrant planets and planetoids
Edit
Gamma Quadrant planets and planetoids
Edit
Stars and systems
Edit
Alpha Quadrant stars and systems
Edit
Beta Quadrant stars and systems
Edit
Delta Quadrant stars and systems
Edit
Gamma Quadrant stars and systems
Edit
Stellar regions
Edit
Sectors and subquadrant regions
Edit
Astronomical landmarks
Edit
Races and cultures
Edit
States and organizations
Edit
Planetary classification
Edit
Starships and vehicles
Edit
Other references
Edit
Chronology
Edit
500,000 years ago

Talos IV becomes warp-capable (34)
Vulcan becomes warp-capable (52)
The Confederacy of Surak is founded on Vulcan (52)
Andoria becomes warp-capable (52)
Cardassia becomes warp-capable (35)
Launch of Sputnik 1: Earth's first artificial satellite (38)
Launch of Nomad probe: Earth's first interstellar spacecraft
The Lunar Colonies are founded (32)
Tamar becomes warp-capable (35)
Launch of Phoenix, piloted by Zefram Cochrane: Earth's first warp-driven vessel (32)
SS Valiant traverses Galactic Barrier (12)
Launch of Friendship One: Earth's first long-range interstellar probe (38)
Founding of Utopia Planitia Base on Mars; launch of SS Conestoga (39)

c. 2079

Founding of Terra Nova Colony by SS Conestoga (32)
Founding of United Martian Colonies (32)
United Earth is founded (32)
ECS North Star is lost (45)
The Romulan Neutral Zone is established (45)
The United Federation of Planets is founded. Founding members include: Earth (32), Vulcan, and Andoria (52). Charter members include: Mars and the Moon (32)
Terra Nova is admitted to the Federation (32)
First manned landing on Izar by the SS Horizon. Izar Colony is founded. Izar is admitted to the Federation (32)
Delta becomes warp-capable. Delta is admitted to the Federation (33)
SS Columbia makes first contact with Talos IV (34)
Launch of USS Enterprise, from San Francisco Fleet Yards (39)
USS Farragut makes first contact with Neural (34)
Deneb V becomes warp-capable. Deneb V is admitted to the Federation (33)
Betazed is admitted to the Federation (33)
Trill is admitted to the Federation
The Cetacean Probe travels towards Earth (39)
USS Enterprise-A traverses Great Barrier and travels to Sha Ka Ree (12)
The border of the Cardassian Union extends into Bajoran space (47)
The SS Santa Maria travels to Orellius (47)
Launch of USS Enterprise-D, from Utopia Planitia Fleet Yards (39)
USS Enterprise-D transported 7,000 light-years to FGC J25; first contact with Borg (13)
Ferengi shuttle travels to Delta Quadrant through Barzan wormhole (13)
The Demilitarized Zone is established (47)
USS Voyager transported 70,000 light-years to Delta Quadrant by the Caretaker's array (13)
USS Voyager returns to Alpha Quadrant through Borg transwarp conduit
Appendices
Edit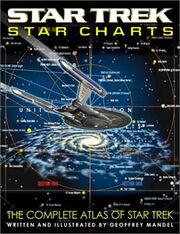 Logos and insignia
Edit
Star maps
Edit
Planets and objects
Edit
External link
Edit