Star Trek: Countdown
Talk

19
45,026pages on
this wiki
Star Trek: Countdown is a four-part comics miniseries published by IDW Publishing, starting in January 2009. The series' story is both a prequel to the new TOS era Star Trek movie and a sequel to the TNG era, set several years after the film Nemesis. The series was written by Tim Jones and Mike Johnson with a story by the film's writers Alex Kurtzman and Roberto Orci. The series was illustrated by David Messina. An omnibus of the series was published on April 2009.
The series presents the origin of Nero, the mysterious Romulan who will ultimately threaten the survival of the entire universe." And more specifically will show Nero and Spock in the post-Nemesis TNG-era prior to time travelling back to the Original Series era of movie. Roberto Orci has described the series as "about how you connect the Next Generation era to our continuity, inspired by when we last saw Mr. Spock in "Unification"". In addition to Spock and Nero the series prominently features Jean-Luc Picard, Data/B-4, Worf and Geordi La Forge.
Unusually the omnibus for the series will be published in the same month as the last issue (rather than three months later), just in time for the release of the movie in May.
Appendices
Edit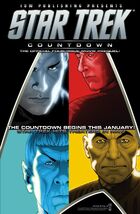 The cover art for the series was based on early promotional posters for the new movie. The complete image of all four covers was used for promotion of the series, including a poster and as the cover for the omnibus. All four issues were also issued in more limited retail incentive covers using the original poster photos.
The final page of issue 1 features the Engineering control panel from A Final Unity in the foreground.
Connections
Edit
External links
Edit