For the first Starbase constructed by Starfleet, see: "Starbase 1 (destroyed)"
Starbase 1 (registry number NCC-6038) is a Federation starbase located in the Sol star system. (ST reference: Star Fleet Technical Manual)
History and layout
Edit
Starbase 1 includes a number of facilities in and around the Sol system, including the Spacedock at Earth orbit, as well as a space station facility in Sol's Oort cloud. (STO video game: Star Trek Online; DS9 - Invasion! novel: Time's Enemy)
Star Trek: Online notably uses the "Starbase 1" name to refer to the Earth Spacedock, while the Star Fleet Technical Manual, FASA's RPG sets and "Time's Enemy" expand the definition of Starbase 1 to include other stations. In Star Trek Online, this is the primary starbase used by players of the Federation faction, and every Federation starship is equipped with the ability to initiate a transwarp jump to the spacedock.
In the year 2268, the USS Enterprise headed for Starbase 1 for some much-needed maintenance work and shore leave for the crew, but upon arrival they were almost immediately assigned by Admiral McKenna to a diplomatic mission to the Ammdon system. After the mission was completed, the Enterprise returned to Starbase 1. (TOS novel: Mutiny on the Enterprise)
This novel depicts Starbase 1 as being located on an unnamed planet .
In 2270, Starbase 1 reported that ten Romulan warships had breached the Romulan Neutral Zone and were headed for the planet Gateway. (TOS - The Yesterday Saga novel: Yesterday's Son)
In late 2285, Starfleet Security released their final analysis on how Admiral James T. Kirk and his crew were able to steal the Enterprise from the facility. (FASA RPG module: Star Trek IV Sourcebook Update)
In 2375, a Breen attack left Starbase 1 without power while servicing the USS Columbia, trapping the only starship in the Sol system behind the massive space station's doors. The USS Enterprise-E was later able to free the Columbia, and the two starships then defeated Breen forces attacking Earth. (TNG short story: "Eleven Hours Out")
In 2380, the Trinni/ek delegation was beamed aboard Starbase 1 for medical treatment after it was determined that no hospital in Paris was as well-equipped for their alien physiology. (ST novel: Articles of the Federation)
Alternate reality
Edit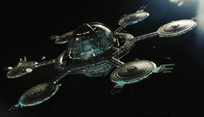 In 2258 of the Nero-created alternate reality, the USS Enterprise was originally docked at Starbase 1 before departing for Vulcan. (TOS movie: Star Trek; TOS video game: Rivals)
The Enterprise departed from Starbase 1 in 2259 on its way to Qo'noS, Kirk ordering the moorings be retracted immediately before the ship left. (TOS movie & novelization: Into Darkness)
Embarked craft
Edit
Personnel
Edit
Appendices
Edit
Connections
Edit
Warning: The following content contains spoilers for Star Trek Beyond.
External link
Edit