Ad blocker interference detected!
Wikia is a free-to-use site that makes money from advertising. We have a modified experience for viewers using ad blockers

Wikia is not accessible if you've made further modifications. Remove the custom ad blocker rule(s) and the page will load as expected.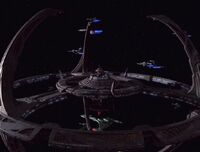 The Starfleet Ninth Fleet was a fleet group of the Federation Starfleet. (DS9 episodes: "Favor the Bold", ST - The Fall novel: A Ceremony of Losses)
During the Dominion War, the fleet was involved in several major operations. It was tasked to take part in 2374's Operation Return, however, the 9th Fleet was too late to join the 2nd Fleet and the 5th Fleet in the victorious effort to retake Deep Space 9. (DS9 episodes: "Favor the Bold", "Sacrifice of Angels", DS9 - The Dominion War novelization: ...Sacrifice of Angels)
Following Operation Return the fleet was headquartered at Deep Space 9, and combined with Klingon combat elements. General Martok became its commander. It would be involved in further combat operations. (DS9 episodes: "You Are Cordially Invited", "Change of Heart", "Once More Unto the Breach")
Following the war, the 9th Fleet's would again be a Starfleet naval group. In 2385 the fleet was commanded by Rear Admiral Soth Romar and based out of Gamma Hydra. (ST - The Fall novel: A Ceremony of Losses)
Fleet Actions
Edit
Starships Assigned
Edit
Apocrypha
Edit
The RPG The Dominion War Sourcebook: The Fires of Armageddon, published by Last Unicorn Games after they had lost their Star Trek license, states that Admiral William Ross commanded the fleet during the Dominion War.
Connections
Edit
External link
Edit