For other uses, see Starfleet Academy.
For the mirror universe counterpart, see Starfleet Academy (mirror).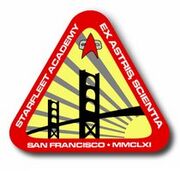 Starfleet Academy is a four-year institution of higher learning, the primary training facility for Starfleet officers. Located at the San Francisco Presidio, it was flanked between two overwhelming vistas; the Starfleet Command, and the Point Bonita Lighthouse. It was approved and founded on December 13, 2161. Admission to the Academy was intensely competitive. (ST references: Star Trek: The Next Generation Companion, Make It So: Leadership Lessons from Star Trek: The Next Generation, Last Unicorn RPG module: Starfleet Academy Handbook, ST reference: Federation: The First 150 Years)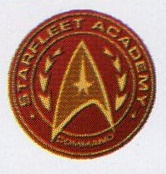 In the 2140s, the academy started as training program for United Earth's Starfleet personnel.(ENT episode: "Storm Front, Part II")
Following the disappearance of the Slayton in 2159, Starfleet Admiral Somers proposed to establish the Academy to train all the future Starfleet officers. It was to ensure that they would not share the same fate as his son, the Slayton's chief engineer, Jack Somers. (SA - Starfleet Academy comic: "Issue 3")
24th century
Edit
In 2368, the USS Enterprise-D's captain, Jean-Luc Picard, was asked to give a commencement speech for that year's graduating class. However, there was an incident with the Nova Squadron in which cadet Joshua Albert was killed when they attempted the Kolvoord Starburst. In 2372, another squad, Red Squad took part in Admiral James Leyton's attempted coup. (TNG episode: "The First Duty"; DS9 episodes: "Homefront", "Paradise Lost")
Requirements
Edit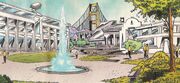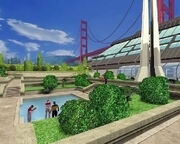 Traditionally, when a person who wished to join Starfleet reached adulthood, they submitted an application and underwent a series of tests. If accepted, they trained at an Academy facility, such as the primary one at the San Francisco Presidio on Earth. A usual course of study for officers is a four-year education, although accelerated programs and graduate training are available. Enlisted service requires a much shorter training course, sometimes at a satellite facility of the Academy or at another Starfleet installation. (ST reference: Star Trek Encyclopedia, )
The Starfleet Academy Preparatory Program was a course of testing for application to Starfleet Academy. (DS9 episode: "Facets")
The Academy's motto is "Ex Astris, Scientia", or "From the Stars, Knowledge." (TNG novel: The First Duty)
The facilities include holodecks, located on Archer Hall. (ST - SNW short story: "Best Tools Available")
In the mid-22nd century, all cadets were required to study the worlds that had been destroyed by their dominant species through wars and environmental mismanagement. (TOS novel: Prime Directive)
In 2371, the entrance exam's final question was worth fifty points. (DS9 novel: The Long Night)
Required reading
Edit
Curriculum
Edit
Personnel
Edit
Senior personnel
Edit
The nature of the division of responsibilities between the Commandant of Starfleet Academy and the Superintendent of Starfleet Academy has not been established. At the modern United States Naval Academy, the Superintendent is the officer in charge of the Academy and the Commandant oversees discipline and day-to-day operations involving midshipmen.
Instructors
Edit
Annex Campuses/locations
Edit
On-Campus locations
Edit
This article or section is incomplete
This article is marked as lacking essential detail, and needs attention. Information regarding expansion requirements may be found on the article's talk page. Feel free to edit this page to assist with this expansion.
Appendices
Edit
Connections
Edit
References
Edit
External link
Edit
Ad blocker interference detected!
Wikia is a free-to-use site that makes money from advertising. We have a modified experience for viewers using ad blockers

Wikia is not accessible if you've made further modifications. Remove the custom ad blocker rule(s) and the page will load as expected.