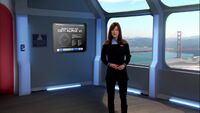 Starfleet Academy SCISEC Briefs are a series of short films created as extra features for the 2009 Blu-Ray and DVD releases of the first ten Star Trek films. Each mini-episode reviews some of the main concepts of a Star Trek movie, adding some hypothesis to what is shown on screen.
The episodes all feature a Human female Starfleet Science Officer from the 24th century, briefing the audience from the James T. Kirk Lecture Hall at Starfleet Academy.
References
Edit
Connections
Edit
Ad blocker interference detected!
Wikia is a free-to-use site that makes money from advertising. We have a modified experience for viewers using ad blockers

Wikia is not accessible if you've made further modifications. Remove the custom ad blocker rule(s) and the page will load as expected.