The Starfleet uniforms that were introduced in the 2240s would share similarities with many uniform designs that were worn in the future. In a move away from the previous designs before it, this design featured a new set of rank stripes and division colors, which were rather dull mustard, tan, and blue colors, which compared to the bold colors of later uniforms, was rather muted. (TOS novel: Final Frontier; TOS episode: "The Cage")
This design began use in the 2240s, and was seen in use to 2267, although new design began to be phased in throughout 2265 to 2267. When the USS Enterprise stopped off for repairs at Vanguard in 2265, they were issued with the new uniforms. (TOS episodes: "The Corbomite Maneuver", "Charlie X", "The Trouble with Tribbles"; VAN novel: Harbinger)
Duty Uniform
Edit
The duty uniform that was worn throughout this period consisted of a top which displayed the divisional cover, and a pair of black trousers. In a similar fashion to the old Earth Starfleet uniforms, the assignment patch was included on the uniform and was included on tne breast of the top. Rank insignia was also displayed on the wearer's sleeves. (Star Trek: Early Voyages et al.)
Female variant
Edit
The female variant of the standard duty uniform was largely the same as the normal version, but a larger loose collar was added to the design. (Star Trek: Early Voyages et al.)
Female dress variant
Edit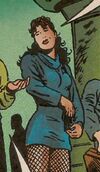 Female officers also had the option of wearing a dress type uniform, similar to those that would be worn in the late 2260s.
Seam variant
Edit

A variant that was introduced in the early 2260s included a closing seam that was added to the side of the neck of the top. (TOS episode: "Where No Man Has Gone Before")
Other Uniforms and Accessories
Edit
Excursion Jacket
Edit
Work Jumpsuit
Edit
Wraparound
Edit
Command level personnel also had the option of wearing a wraparound style top which bore their rank and insignia.
This style was only seen twice, once worn by Commodore Hal Wyeth in the 2250s and a more simplified version in the same era by Captain Pike, it is very similar to the wraparound worn by Captain James T. Kirk in the 2260s.
Cadet tunic
Edit
The Starfleet cadet tunic was, as it was in previous uniform designs, a metallic sheen silver fabric cut to similar style as the regular duty uniforms, with turtlenecks for both male and female cadets, and a skirt option. In the early 2250s, a black-collared style of the same tunic came into use. The style of reflective silver fabric was a decision of one of the first Starfleet admirals in the 22nd century, intending the shiny fabric to look like the Pacific Ocean out past Point Bonita Light off San Francisco on Earth. Leonard McCoy thought of this color as "Alaska silver". (TOS - Starfleet Academy novel: Cadet Kirk; EV comic: "Nor Iron Bars a Cage"; TOS episode: "Shore Leave")
Connections
Edit
Ad blocker interference detected!
Wikia is a free-to-use site that makes money from advertising. We have a modified experience for viewers using ad blockers

Wikia is not accessible if you've made further modifications. Remove the custom ad blocker rule(s) and the page will load as expected.