Ad blocker interference detected!
Wikia is a free-to-use site that makes money from advertising. We have a modified experience for viewers using ad blockers

Wikia is not accessible if you've made further modifications. Remove the custom ad blocker rule(s) and the page will load as expected.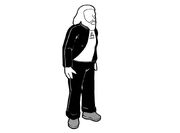 Around stardate 2/7206, the Federation Starfleet chose to adopt a new uniform design as general issue. This Starfleet uniform was created by manufacturers on Alpha Centauri, a firm named Lerithian Textiles as a response to concerns of the overly military look of the previous design dating back to the 2270s. This was described as an "interim design" and was not favorably received, being abolished some time afterwards, although it could still be found worn on distant installations in the 2360s after the beginning of the 2350s issue.
The uniform featured a black trousers and boots, with a black turtleneck bearing a swath of division color-coded fabric diagonally from waist to shoulder. A silver Starfleet arrowhead and a set of silver rank pip insignia beneath it, similar to the style of gold rank pips later adopted with the 2350s ranks. The division colors were roughly based on previous designs, with gold for command division, red for operations division, blue for sciences division (including medicine), and green to denote ground personnel and colonial detachments. (FASA RPG module: Star Trek: The Next Generation Officer's Manual)
Appendices
Edit
Connections
Edit