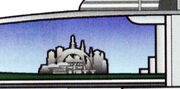 Stars Landing
was the civilian and commercial area within the
terrestrial enclosure
on
Starbase 47-Vanguard
.
It was a cluster of buildings that half surrounded the station's central core in a crescent-shape, and bordered Fontana Meadow. The buildings themselves had been designed to evoke natural shapes such as honeycomb and shells. Some of the tallest of them were nearly 20 stories high, almost touching the simulated sky of the enclosure.
Amongst the commercial establishments in Stars Landing were Café Romano, Manón's cabaret and Tom Walker's bar. (VAN novel: Harbinger)
Stars Landing was listed as the location of one of Pocket Books offices in Harbinger.
Connections
Edit
Ad blocker interference detected!
Wikia is a free-to-use site that makes money from advertising. We have a modified experience for viewers using ad blockers

Wikia is not accessible if you've made further modifications. Remove the custom ad blocker rule(s) and the page will load as expected.