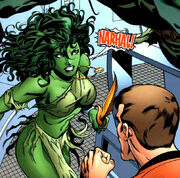 Susna served on an Orion pirate ship along with her husband Narhal. They were the first two Orions to be captured by the Federation, as a boarding party led by Captain James T. Kirk successfully prevented them from activating their self-destruct device.
Later, Narhal and Susna were broken out of the USS Enterprise brig when some of Armand St. John's "others" attempted to seize the vessel. Once this incident was resolved, they were returned to the brig and presumably transferred to Federation facilities on Gelb VII, as was the original destination of the Enterprise before their course was diverted to Pollux II (TOS comic: "All of Me")
Ad blocker interference detected!
Wikia is a free-to-use site that makes money from advertising. We have a modified experience for viewers using ad blockers

Wikia is not accessible if you've made further modifications. Remove the custom ad blocker rule(s) and the page will load as expected.