Ad blocker interference detected!
Wikia is a free-to-use site that makes money from advertising. We have a modified experience for viewers using ad blockers

Wikia is not accessible if you've made further modifications. Remove the custom ad blocker rule(s) and the page will load as expected.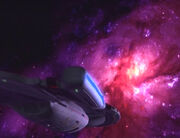 The Swallow Nebula was a Mutara class nebula in the Delta Quadrant boarding on the B'omar Sovereignty and space controlled by the Hirogen. (ST reference: Star Charts)
The Nebula was about 110 light years long and emitted subnucleonic radiation. (VOY episode: "One")
The nebula was encountered by the USS Voyager in 2374 on the starship's return journey to the Alpha Quadrant. It would take a month for the starship to travel through the nebula, opposed to a year to go round. Unfortunately the radiation emitted by the nebula had a damaging effect on most of Voyager's crew. Unwilling to add a year to their journey the crew opted to be put into stasis for the time it took to traverse the nebula, leaving Seven of Nine and the Doctor to operate the vessel. (VOY episode: "One")
The nebula was not named in the episode. The name established in Star Charts is in honor of the uncredited story pitcher of the episode, James Swallow.