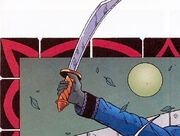 The Sword of Mar'na F'ullhy was a sword that was the sacred symbol of the office of the planetary governor of Damiano. It was created in the 22nd century and said to have been used by Mar'na F'ullhy to cut through the cultural barriers of the time. It remained the symbol of office into the late 24th century. (TNG - Perchance to Dream comic: "By a Sleep to Say We End")
Ad blocker interference detected!
Wikia is a free-to-use site that makes money from advertising. We have a modified experience for viewers using ad blockers

Wikia is not accessible if you've made further modifications. Remove the custom ad blocker rule(s) and the page will load as expected.