"I would prefer to find the solution without assistance."
—T'Laan
T'Laan was a female Vulcan Starfleet Academy Cadet in the 2260s of the alternate reality.
Biography
Edit
T'Laan was born in the city of ShiKahr on Vulcan in 2240. In 2258 on the wishes of her parents, T'Laan enrolled at Starfleet Academy to study engineering. She enrolled on stardate 2258.42, the same day of Vulcan's destruction.
Three years later in 2261, T'Laan considered resigning from the Academy and rejoin the survivors on New Vulcan. However, she was convince by Professor Trumble to stay on and join the Academy's team for the Inter-Academy Exploratory Competition. She then found a old message from Lt. Nyota Uhura.(SA - Starfleet Academy comics: "Issue 1", "Issue 2", "Issue 3")
This article or section is incomplete
This article is marked as lacking essential detail, and needs attention. Information regarding expansion requirements may be found on the article's talk page. Feel free to edit this page to assist with this expansion.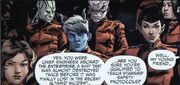 In
2263
, following the
incident
at
Altamid
, T'laan then attended a lecture by
Lieutenant commander
Montgomery Scott
. (
TOS
-
Boldly Go
comic
: "
Issue 1
")
Appendices
Edit
Personality
Edit
According to her file, T'Laan enjoyed Hestigapt noodles. She like solving problems and rock climbing. Like other Vulcans, she disliked overt displays of emotion. She also disliked rainfall. (SA - Starfleet Academy comic: "Issue 3")
Appearances
Edit
Ad blocker interference detected!
Wikia is a free-to-use site that makes money from advertising. We have a modified experience for viewers using ad blockers

Wikia is not accessible if you've made further modifications. Remove the custom ad blocker rule(s) and the page will load as expected.