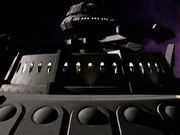 T'Pril's was an establishment on Deep Space 9's Promenade which served Vulcan cuisine.
T'Pril's was especially popular in the morning, with the effect of losing Quark several of his breakfast clientele in 2376. (DS9 novel: Avatar, Book One)
In 2383, Kira Nerys asked Prynn Tenmei if she wanted to dine with her in T'Pril's. (ST - Typhon Pact novel: Plagues of Night)
T'Pril's was presumably operated by a Vulcan named T'Pril. It may be the Vulcan restaurant mentioned in "Indiscretion".
Connections
Edit
Ad blocker interference detected!
Wikia is a free-to-use site that makes money from advertising. We have a modified experience for viewers using ad blockers

Wikia is not accessible if you've made further modifications. Remove the custom ad blocker rule(s) and the page will load as expected.