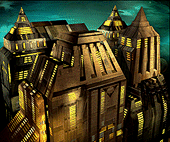 The Tactical College is a training facility located on the Klingon homeworld of Qo'noS.
This prestigous facility is where Klingon commanders train and gain the necessary experience for them to bring glory to both their House and the Empire. The college presumably possesses veteran warrior instructors who pass their knowledge and skill to the younger generation. (TNG video game: Birth of the Federation)
Ad blocker interference detected!
Wikia is a free-to-use site that makes money from advertising. We have a modified experience for viewers using ad blockers

Wikia is not accessible if you've made further modifications. Remove the custom ad blocker rule(s) and the page will load as expected.