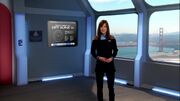 Starfleet Academy SCISEC Brief 008: Temporal Vortex is a short episode in the DVD Extra series of Starfleet Academy SCISEC Briefs. In this episode, an unnamed Starfleet Science Officer examines the Borg's use of a temporal vortex.
References
Edit
Characters
Edit
Referenced only 
Races and cultures
Edit
Locations
Edit
Referenced only 
Starships and vehicles
Edit
Type-6 shuttlecraft • Type-11 shuttlecraft • Type-15 shuttlepod • Unnamed Federation shuttlecraft classes#24th century

Referenced only 
States and organisations
Edit
Other references
Edit
Appendices
Edit
Chronology
Edit
Related stories
Edit
Connections
Edit
Ad blocker interference detected!
Wikia is a free-to-use site that makes money from advertising. We have a modified experience for viewers using ad blockers

Wikia is not accessible if you've made further modifications. Remove the custom ad blocker rule(s) and the page will load as expected.