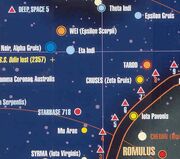 The former site of the Thallonian Empire was known on Starfleet charts as Sector 221-G.
The Thallonian Empire was located in the space between Deep Space 5 and the Romulan Star Empire. (NF novel: House of Cards; TNG - Double Helix novel: Double or Nothing)
The Thallonian Empire was an extremely xenophobic society that did not allow unauthorized trespass. The penalty for traveling within Thallonian space without authorization was death.
The Thallonian Empire fell in the year 2373, due in part from the actions of a rival species, the Danteri, who engineered a coup on Thallon that left most of the Thallonian royal family dead.
One of the sole survivors of the Thallonian royal Family, Si Cwan, formed the democratic New Thallonian Protectorate in (approximately) 2377. (NF novels: House of Cards, After the Fall)
Connections
Edit
Ad blocker interference detected!
Wikia is a free-to-use site that makes money from advertising. We have a modified experience for viewers using ad blockers

Wikia is not accessible if you've made further modifications. Remove the custom ad blocker rule(s) and the page will load as expected.