"The Corbomite Maneuver" was the second episode of Star Trek: The Original Series produced in the show's first broadcast season, and the third overall produced, first aired on 10 November 1966. The episode was written by Jerry Sohl, directed by Joseph Sargent and novelized in Star Trek 12 by James Blish.
References
Edit
Characters
Edit
Episode characters
Edit
Novelization characters
Edit
David Bailey • Balok • Leonard McCoy • Janice Rand • Montgomery Scott • Spock • Hikaru Sulu • Nyota Uhura
Starships and vehicles
Edit
Locations
Edit
Referenced only 

Andromeda constellation • Aries constellation • Auriga constellation • Cancer constellation • Canis Major constellation • Canis Minor constellation • Cetus constellation • Columba constellation • Eridanus constellation • Fornax constellation • Gemini constellation • Lepus constellation • Lynx constellation • Monoceros constellation • Orion constellation • Pisces constellation • Puppis constellation • Sculptor constellation • Taurus constellation
Races and cultures
Edit
States and organizations
Edit
Other references
Edit
adrenaline • corbomite • poker • recorder-marker • tranya
Appendices
Edit
Related media
Edit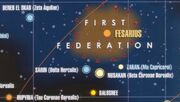 Adaptations
Edit
Video releases
Edit
Background
Edit
A computer monitor viewscreen shows a projected constellation map, providing a canon reference to many real constellations.
Episode images
Edit
Adaptation images
Edit
External link
Edit
Ad blocker interference detected!
Wikia is a free-to-use site that makes money from advertising. We have a modified experience for viewers using ad blockers

Wikia is not accessible if you've made further modifications. Remove the custom ad blocker rule(s) and the page will load as expected.