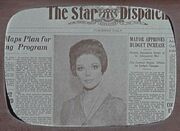 The Star Dispatch was a daily newspaper published in New York City during the early 20th century.
A 1930 edition reported that a social worker named Edith Keeler had been killed in a traffic accident and that Alfredo Pedillo Jose had been murdered by Bobby Cabe. (TOS episode: "The City on the Edge of Forever")
In March of that year, the paper reported that Jawaharlal Nehru, one of the top aides of Mahatma Gandhi, had been sentenced to six months in prison for violating India's Salt Law. (TOS - Crucible novel: Provenance of Shadows)
Alternate timeline
Edit
In an alternate timeline accidentally created by Leonard McCoy saving from Edith Keeler being killed in the aforementioned accident, the February 23, 1936 issue reported that Keeler had met with President Franklin D. Roosevelt to discuss her plans to assist the poor. (TOS episode: "The City on the Edge of Forever")
Connections
Edit
Ad blocker interference detected!
Wikia is a free-to-use site that makes money from advertising. We have a modified experience for viewers using ad blockers

Wikia is not accessible if you've made further modifications. Remove the custom ad blocker rule(s) and the page will load as expected.