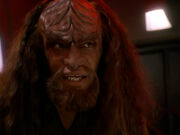 Tony Todd is an American actor who played Kurn, son of Mogh in Star Trek: The Next Generation and Star Trek: Deep Space Nine. He also played the adult Jake Sisko in the DS9 episode: "The Visitor" and voiced Korban in Elite Force II. He also reprised his role as Kurn in Star Trek: Klingon and Kurn/Rodek in Star Trek: Online.
Todd is also well known for his roles in the Candyman and Final Destination series and for his appearances in many other horror films and television series.
Connections
Edit
Ad blocker interference detected!
Wikia is a free-to-use site that makes money from advertising. We have a modified experience for viewers using ad blockers

Wikia is not accessible if you've made further modifications. Remove the custom ad blocker rule(s) and the page will load as expected.