Ad blocker interference detected!
Wikia is a free-to-use site that makes money from advertising. We have a modified experience for viewers using ad blockers

Wikia is not accessible if you've made further modifications. Remove the custom ad blocker rule(s) and the page will load as expected.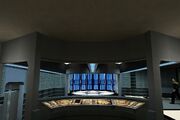 The transporter room is an area on a starship or outpost facility where transporter operations are conducted, typically housing a transporter pad and all necessary transporter technology. At one point during the Federation starship USS Enterprise's journeys the transporter room was termed the teleportion chamber.
History and specifics
Edit
Many starships have a number of transporter rooms in addition to transporters in other locales such as cargo bays. The transporter rooms on the USS Defiant were sometimes referred to as the transporter bays. (DS9 episodes: "The Way of the Warrior", "To the Death", "Broken Link", DS9 - Gateways novel: Demons of Air and Darkness, DS9 - Mission: Gamma novels: Cathedral, Lesser Evil, DS9 novel: Warpath)
In an alternate timeline where Montgomery Scott rescued James T. Kirk before he could be absorbed into the Nexus, Alliance vessels were equipped with an interrogation chamber; the only access to this section of the vessel was via a single transporter pad inside a miniature transporter room, a transporter cubicle. (ST novel: Engines of Destiny)
Appendices
Edit
External links
Edit