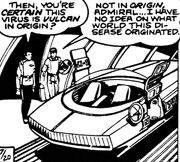 The
two-man shuttlecraft
was a type of small
shuttlecraft
, a
USS Enterprise (NCC-1701) auxiliary craft
used in
2279
. The vessel was used for traveling to and from a planet's surface, but also traveled between star systems. The
Enterprise
carried at least three ships of this type.
Known flights
Edit
Background
Edit
This shuttle type may have been of an experimental nature, per the testbed status of the starship during this period. Throughout 2279 the Enterprise was used to field-test experimental equipment, as well as conduct research missions and trainee cruises. (TOS - Mere Anarchy eBook: The Darkness Drops Again)
It was an unnamed Federation shuttlecraft class. Of the five known flights, only one ship was referenced by name: the destroyed Copernicus.
The shuttles were seen during Gerry Conway's tenure with the US Comics Strips series and were primarily illustrated by Dick Kulpa. In their debut, they were drawn by Ernie Colón, Alfredo Alcala, and Serc Soc.