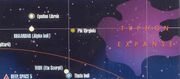 The Typhon Sector is a Federation sector near the border of Klingon space. Part of the Typhon Expanse lies within the sector, as does starbase Deep Space 5.
In 2373, the sector was the location of the initial engagement between Vice Admiral Jeremiah Hayes' Starfleet task force and a Borg cube en route to Earth. The fleet was unable to stop the cube at Typhon and pursued the cube all the way to Sector 001. (TNG movie: Star Trek: First Contact)
Appendices
Edit
Connections
Edit
External link
Edit
Ad blocker interference detected!
Wikia is a free-to-use site that makes money from advertising. We have a modified experience for viewers using ad blockers

Wikia is not accessible if you've made further modifications. Remove the custom ad blocker rule(s) and the page will load as expected.