Ad blocker interference detected!
Wikia is a free-to-use site that makes money from advertising. We have a modified experience for viewers using ad blockers

Wikia is not accessible if you've made further modifications. Remove the custom ad blocker rule(s) and the page will load as expected.
For other uses, see Berkeley.
The USS Berkeley (NCC-64720) was a Nebula-class Federation starship that was in service in the late 24th century. In the 2370s, the Berkeley served as a science vessel and was under the command of Captain Elizabeth Haley.
In 2378, the Berkeley was assigned to investigate the area around the Vesuvi event, but it was discovered that she was unable to penetrate the large dust clouds surrounding the area. While inside the dust clouds, the Berkeley was attacked and badly damaged by a Kessok vessel. Fortunately, she survived the encounter and was towed back to Starbase 12 by the USS Nightingale. (TNG video game: Bridge Commander)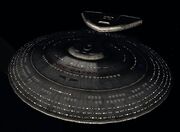 In 2410, the Berkeley was one of several vessels patrolling the Sol System near Earth Spacedock. (STO mission: "Welcome to Earth Spacedock")