The USS Bonchune (NCC-70915) was a 24th century Federation starship, a Nebula-class explorer in Starfleet service in the 2370s decade.
Service history and specifications
Edit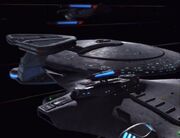 Bonchune was outfitted with an upper platform housing the triangular Nebula-class sensory and weapon emplacements.
In the year 2374, the Bonchune was among the vessel assigned to pursue the USS Prometheus when Prmetheus was hijacked by Romulan agents. (VOY episode: "Message in a Bottle")
In 2377, the Bonchune was part of the fleet that escorted the USS Voyager back to the planet Earth when Voyager returned from the Delta Quadrant. (VOY episode: "Endgame")
Appendices
Edit
Connections
Edit
Background
Edit
Named after Robert Bonchune, special effects artist.
Appearances and references
Edit
External link
Edit