---
Spoiler warning: Plot and/or ending details follow.
---
For other uses, see Enterprise.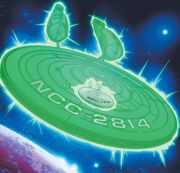 The USS Enterprise (NCC-2814) was a green energy simulacrum of the Federation starship USS Enterprise created by the Green Lantern Hal Jordan using his Green Lantern power ring. Patterned as a larger variant of the Kelvin timeline Constitution-class vessel, the "NCC-2814" was so designated by Jordan as a nod to his Green Lantern space sector assignment, sector 2814. (TOS - The Spectrum War comic: "Issue 4")
Appendices
Edit
Connections
Edit
Warning: The following content contains spoilers for Star Trek Beyond.