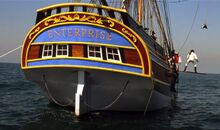 The Enterprise was a brig (two-masted) sailing vessel created on the holodeck of the USS Enterprise-D, and used in promotion ceremonies aboard that ship. In 2371, the ceremony for Worf's promotion from lieutenant to lieutenant commander was held aboard this Enterprise. (TNG movie: Star Trek Generations)
The ship used in the filming of Generations was the Lady Washington. While this Enterprise may have been intended to represent an actual historic ship (possibly the United States Navy's 19th century "Brig Enterprise"), such a connection has never been explicitly drawn.
Connections
Edit
Ad blocker interference detected!
Wikia is a free-to-use site that makes money from advertising. We have a modified experience for viewers using ad blockers

Wikia is not accessible if you've made further modifications. Remove the custom ad blocker rule(s) and the page will load as expected.