Ad blocker interference detected!
Wikia is a free-to-use site that makes money from advertising. We have a modified experience for viewers using ad blockers

Wikia is not accessible if you've made further modifications. Remove the custom ad blocker rule(s) and the page will load as expected.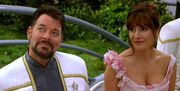 List of crewpeople who served aboard the Federation starship USS Titan.
Due to the wide variety of cultures on the Titan, race and gender are noted, where known.
Senior staff
Edit
Engineering personnel
Edit
Medical personnel
Edit
Counseling staff
Edit
Operations personnel
Edit
Flight control personnel
Edit
*The character sheet for Fallen Gods lists both Chief Bolaji and Lieutenant ch'Kul'tan as the conn officer for the gamma shift. Further confusing matters is ch'Kul'tan being featured in the book as working at the conn station during the beta shift.
Security personnel
Edit
Sciences personnel
Edit
science officer:
gamma shift science officer: Ensign Ichi (2379 - 2381)
Lieutenant Chamish, ecology (Kazarite male)
Lieutenant Eviku, xenobiology (Arkenite male) [1]
Lieutenant Melora Pazlar, head of stellar cartography department (2379 - 2380; Elaysian female) [1]
Lieutenant Hsuuri, stellar cartographer (Caitian Female)
Lieutenant Kekil, biology (2379 - 2386, KIA; Chelon male)
Lieutenant Roakn (2379 - 2381; Brikar male)
Lieutenant Savalek, botany (Vulcan male) [1]
Lieutenant junior grade Zurin Dakal, science officer (2381 - 2386, KIA; Cardassian male)
Ensign Evesh, sensor technician (Tellarite female)
Ensign Y'lira Modan, cryptolinguist (Selenean female)
Ensign Kenneth Norellis, astrobiology (2379 - 2381; Human male) [1]
Ensign Klace Polan (Catullan male)
Ensign Ot Rynaph, airponics technician (Kasheetan male)
Ensign Loolooa Tereshini, cryptolinguist (Antaran female)
Ensign Vennoss, stellar cartographer (Kriosian female)
Cadet Orilly Malar, exobiology (2379 - 2380; Irriol female) [1]
Chief Petty Officer Bralik, geology (Ferengi female) [1]
Crewman Lonam-Arja, sensor technician (2379 - 2381; Grazerite male)
Miscellaneous personnel
Edit
Civilian residents
Edit
References
Edit
↑ 1.00 1.01 1.02 1.03 1.04 1.05 1.06 1.07 1.08 1.09 1.10 1.11 1.12 1.13 1.14 1.15 1.16 1.17 1.18 1.19 1.20 1.21 1.22 1.23 1.24 1.25 1.26 1.27 1.28 1.29 1.30 1.31 1.32 1.33 1.34 1.35 1.36 1.37 1.38 1.39 1.40 1.41 TTN novel: Taking Wing
↑ 8.0 8.1 TTN novel: Seize the Fire