The original incarnation of the Hazard Team military unit was divided into the A-squad and B-squad, but the A-squad is the most relevant for the means of the article. The team was the driving force behind the defeat of the Vohrsoth, and was also pivotal in allowing Voyager to escape through the transwarp hub and return to Federation space. (VOY video game: Elite Force)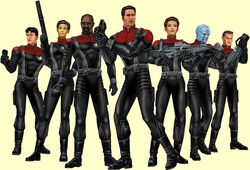 NOTE: In the first Elite Force game, there was the option to play a female version of the same character: Alexandria Munro. Due to the second game focusing on the male version of the character, the female version will be considered apocryphal for the means of Memory Beta.
Connections
Edit
Ad blocker interference detected!
Wikia is a free-to-use site that makes money from advertising. We have a modified experience for viewers using ad blockers

Wikia is not accessible if you've made further modifications. Remove the custom ad blocker rule(s) and the page will load as expected.